VRP® MIL augments virtual training scenarios with Virtual Role Players representing host nationals. VRP® MIL makes it possible to train and rehearse nonlethal missions within a virtual training context. Trainees communicate with VRPs using spoken language, for greater realism.
Key Leader Engagement (KLE) Non-native English (NNE) demonstration scenario incorporated as a plug-in into Bohemia Interactive® Simulations' VBS3 mission rehearsal training program
---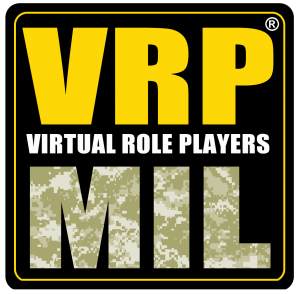 An advanced technology presentation of VRP® MIL, with English (non-native) and Pashto-speaking Virtual Role Players, was delivered to Bohemia Interactive® Simulations for demonstrations within their VBS3 platform.
Benefits
Train without teams of live role players, at home station – this saves personnel and travel costs.
Trainees focus on training – they are not called on to act as role players in training exercises.
Support for mission planning, rehearsal, and after-action review.
Fully compatible with Bohemia Interactive® Simulations' VBS3.
VRP® MIL behavior is culturally accurate – based on cultural research that is cross-validated and approved by the US Defense Language and National Security Education Office (DLNSEO).
Trainers populate scenarios with Virtual Role Players, without specialized programming knowledge or cultural expertise.
Utilizes Alelo's patented Virtual Role-Play technology for cross-cultural dialog with speech and gesture.
Example Use Case
Trainees practice a variety of missions, at varying degrees of intensity. VRP hostility level is set initially by the trainer, and can then escalate or de-escalate depending upon trainee actions. At the hostile level, scenario steps and outcomes would include the following: (based upon an example of a Key Leader Engagement mission)
Approach meeting site
Inform sentry of your appointment to meet local leader
Gain access to local leader
Suggest cooperation on project
Local leader denies cooperation
Leave area without completing objectives
At permissive level, scenario may include the following objectives:
Approach meeting site
Greet and identify yourself to sentries
Inform sentry of your appointment to meet local leader
Be escorted into the compound and presented to local leader
Greet and introduce yourself to local leader
Engage in rapport-building conversation
Suggest cooperation on a project
Gain approval for future cooperative effort
Excuse yourself and receive invitation to return to discuss project
Complete mission objectives successfully
During the scenario other civilians may be active in the area. Player and team members may observe movements of civilian NPCs and are expected to conduct themselves in a culturally appropriate manner.
Capabilities for VRP® MIL
VRPs targeting specific priority nonlethal missions and cultures, aligned with current operational requirements
Culture focus (for demonstration): North Africa and South Asia (e.g., Morocco and Afghanistan)
Mission focus (for demonstration): Key Leader Engagement
Spoken language: Non-native English and Pashto (as spoken by host nationals)
Level of hostility to determined by Player interaction with VRPs
After-action Review
Planned capabilities for future releases
Spoken dialog in additional local languages
Expanded set of cultures and missions
Expanded configuration tool for configuring and customizing VRP® MIL behaviors
Trainer can adjust level of hostility, to determine level of difficulty of training scenario
Application programming interface (API) for integrating a variety of sociocultural data and models.
Resources
Download the VRP® MIL product sheet
Download the VRP® MIL "Games for Training" press release
---