W. Lewis Johnson, Ph.D.
President and CEO, Alelo Inc.
"Artificial intelligence (AI) is enabling dramatic improvements in education by providing learners with immersive personalized experiences, empowering teachers to be more effective, and giving administrators predictive analytics to achieve superior outcomes. AI also significantly increases access for learners and lowers costs, and helps overcome some of the most persistent skill gaps in the global workforce. Social distancing due to COVID-19 is rapidly transforming education and training, resulting in new opportunities and challenges for AI-driven learning systems.

This webinar series looks at the impact of AI on the experience of learners and teachers, now and in the future, and considers the impact on the global education and training industry and the global economy. Webinar speakers include Alelo experts and other thought leaders in the global community of artificial intelligence in education."
Alelo's Rapid Reskilling Initiative for Public Health Workers
Dr. Lewis Johnson, Alelo
April 21, 2021, 10:00 AM – 11:00 AM Pacific / 1:00 PM – 2:00 PM Eastern Click here to register
April 22, 2021, 10:00 AM – 11:00 AM Pacific / 1:00 PM – 2:00 PM Eastern Click here to register
The COVID-19 pandemic has highlighted the shortages of trained health workers who can respond to rapidly evolving health emergencies. Meanwhile, the job losses in industries such as travel and hospitality have widened the gap between worker skills and available jobs, and has forced underemployed workers to consider reskilling for new occupations. This webinar will describe how Alelo is employing artificial intelligence (AI) technology to address both of these challenges at once, by rapidly retraining workers for jobs in public health. Our goal is to quickly prepare people for jobs as community health workers, frontline workers who work in communities in health promotion and public health response. Alelo's avatar-driven training technology is well suited for this purpose because it gives trainees opportunities to practice patient interviews with avatars, while automatically assessing trainee competencies. We are conducting a pilot program with displaced workers in Hampton Roads, Virginia, in collaboration with the Hampton Roads Workforce Council. Once the approach is proven effective, we plan to apply it to other occupations and replicate it globally. This rapid training capability will make it possible to quickly build local health system capacity to combat new health emergencies, whenever and wherever they emerge.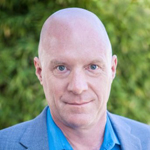 W. Lewis Johnson, Ph.D.
President and CEO, Alelo Inc.
Dr. Johnson is an internationally recognized expert in AI education. For his work on the first Alelo immersive game, Tactical Iraqi, he won DARPA's Significant Technical Achievement Award. He has been a past President of the International AI in Education Society and was co-winner of the 2017 Autonomous Agents Influential Paper Award for his work in the field of pedagogical agents. He has been invited to speak at many international conferences such as the International Conference on Intelligent Tutoring Systems, and presented a Distinguished Lecture at the National Science Foundation.