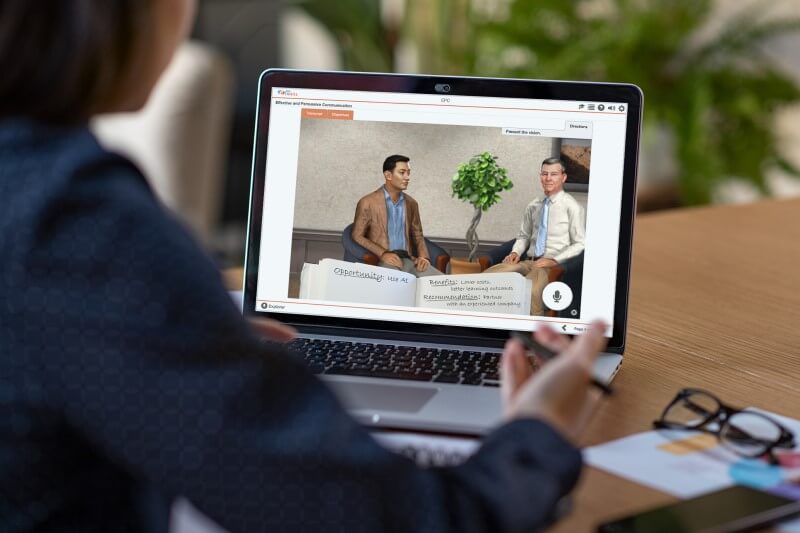 Imagine if people could learn new skills in one fifth or even one-tenth the time of classroom instruction. Lack of training would essentially cease to become a barrier to employment. Training programs that used to take a year or more would be completed in a matter of weeks. Underemployed workers would be able to qualify for living-wage jobs. Workers could quickly retrain to fill open positions in industries experiencing a shortage of workers. The global skills gap would disappear, as people upskill for jobs in the future economy.
Alelo is working to achieve this vision.  Alelo's Enskill® upskilling and reskilling platform, using AI-driven avatar technology, helps people quickly learn new skills. As part of the $5M XPRIZE Rapid Reskilling Competition, an independent panel of judges reviewed Alelo's training and job placement data. It confirmed that Alelo retrains workers at least twice as fast as conventional training, and successfully places them in jobs. XPRIZE selected Alelo as a finalist in the competition, and we are now scaling up our solutions as part of the competition.
Alelo first used its technology to help military personnel quickly learn foreign languages and cultures. These training solutions proved to be very successful, and are now required training for military personnel deploying to 86 countries. Approximately 500,000 personnel have trained with them prior to deployment. We are now applying our technology and methods to help workers retrain and qualify for new jobs in the post-pandemic economy, in occupations as diverse as healthcare and hard-rock mining.
Alelo's AI-driven avatars use speech and language technology to interact with trainees in realistic and natural ways. Unlike some virtual-reality avatar systems that require human operators to control the avatars, Alelo avatar behavior is fully automatic and so is highly scalable.  Trainees can role-play work scenarios, with avatars playing the role of customers or co-workers. They can also talk through procedures with avatar co-workers, explaining and answering questions. This combines the benefits of learning by doing and learning by teaching. Learning retention is very high, and trainees build self-confidence because when they interact with avatars they are not self-conscious and afraid of making mistakes.
Learning by doing has been shown to be six times more effective than learning by watching and reading. Learning by teaching someone else, known as the protégé effect, results in better learning than learning just for yourself. We are now working to achieve truly rapid reskilling, multiples over what we have already achieved, by customizing learning based upon previous work experience.
Alelo partners with teams developing custom learning and development (L&D) solutions for their own organizations and for their clients. This helps in-house L&D teams deliver training solutions that accelerate learning. It can give developers a competitive advantage when bidding on Government and other training contracts. For further information contact us at inquiries@alelo.com.