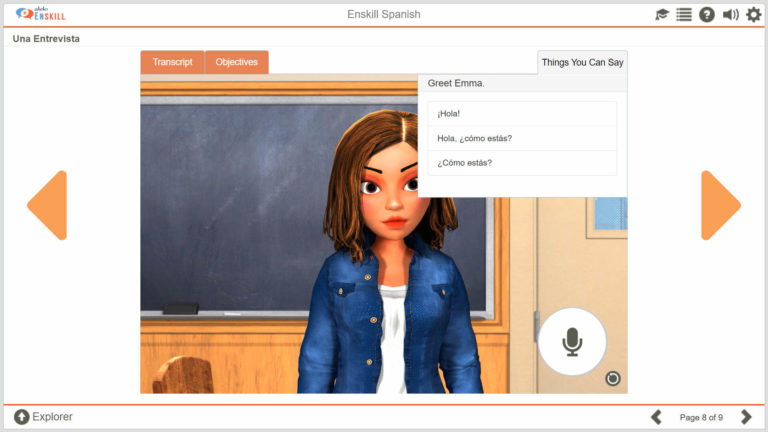 We're excited to introduce Enskill® Spanish, a revolutionary way for middle schools and high schools to teach the Spanish language using AI-driven avatars for conversational practice and personalized feedback.
Enskill Spanish can help anyone improve their conversational Spanish, but it is particularly well suited for students who have limited interaction with teachers—because they are in large classes, studying remotely, or studying on their own.
Students initiate an online conversation with the avatar to perform a particular task. Unlike conventional roleplays in which students follow a fixed script, students in Enskill Spanish can express themselves freely as long as what they say is relevant to the task. At the end of the conversation, Enskill Spanish gives students feedback on whether they met the objectives of the conversation, as well as their conversational fluency measured in terms of conversational turns per minute. They are also assigned personalized exercises in the areas where they need to improve.
At the same time, teachers are able to track their student's progress and identify students who are struggling and need extra help. It is an illustration of how avatar technology can create engaging, effective asynchronous learning experiences.
Enskill® Spanish is currently under trial with a leading K-12 publisher in the US.