Alelo has been selected for Military Training Technology's 2015 Top Simulation & Training Companies list. Companies featured on the list for 2015 are from around the world and have made significant impacts on the military training and simulation industries across a vast array of technologies. These companies' products allow U.S. airmen, Marines, sailors, soldiers and Coast Guardsmen to train and rehearse for missions in theater, or to prepare for deployment at home station. Each year the number of submissions has grown and it has become increasingly difficult for companies to make the list.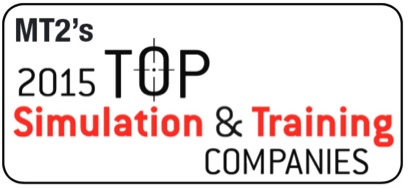 The Alelo Team is committed to creating learning tools and solutions that change the way people communicate by helping learners acquire new skills and apply them when it counts. Alelo's decade-long commitment to their customers is demonstrated by consistent on time delivery within budget. Alelo's suite of Virtual Cultural Awareness Trainer courses and the new VRP® MIL (Virtual Role-Players) for VBS3 were standout programs in the consideration of this year's award.
The key to Alelo training solutions is an innovative training approach called Virtual Role-Play. Learners use virtual role-playing to sharpen their cross-cultural skills to build their self-confidence and to better prepare for high-stakes engagements. Built-in performance measures help managers evaluate competency and best practices. Research-based instructional design and advanced methodology results in improved retention of material and faster skill development over more traditional methods.
Alelo's Virtual Role-Play approach is being incorporated into an expanding set of commercial workplace training and educational applications that offer the benefits of live role-play anywhere/anytime, and can provide a high degree of efficiency and cost savings to commercial, educational, medical, governmental and non-profit organizations.