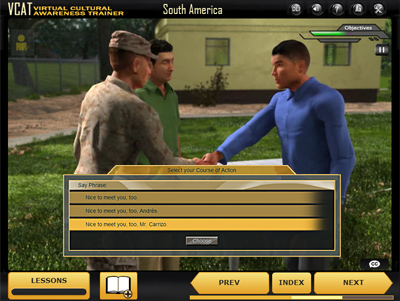 Enhancements to Alelo's most recent language and culture training products will provide improved access and flexibility with new mobile interface for learners in the field
Alelo Inc., a leading creator of language and culture training solutions, has been awarded contracts to develop a new Virtual Cultural Awareness Trainer (VCAT) focused on the islands of the Caribbean as well as expand the existing products covering South America, Central America, the Dominican Republic and Haiti.
The updated VCATs will continue to incorporate the interactive cross-cultural training scenarios that Alelo is known for, optimized for mobile learning on both iOS and Android platforms. Trainees will now be able to practice their communication skills in realistic situations whenever and wherever they like. This level of flexibility and 24/7 access will enrich the skill-building process, helping individuals gain the confidence they need to succeed in missions involving cross-cultural communication.
Designed to provide fundamental training in the respective customs and values of the five regions, the new and expanded courses will feature operational language instruction for Dutch, Spanish, Portuguese, and Haitian Creole.
"Alelo is thrilled to have this opportunity to further contribute to JKO's suite of innovative training products," said Dr. Lewis Johnson, Alelo's President and CEO. "We expect these new mobile training solutions will be highly effective."
The new VCATs are being developed for the Joint Staff J7's Joint & Coalition Warfighting training portal, known as Joint Knowledge Online (JKO), and are expected to be available in the spring of 2014. They will join the growing catalog of Alelo courses available for critical regions of the world, including Northern Africa, Horn of Africa, Taiwan, and Afghanistan.
Widely used by U.S. service members, Alelo's task-based social simulations have been recognized as a highly effective means for increasing users' linguistic and cultural competency. This success has fueled the company's expansion into international markets, with direct government sales to Australia, the United Kingdom and Germany, as well as sales to non-government organizations in the product development arena