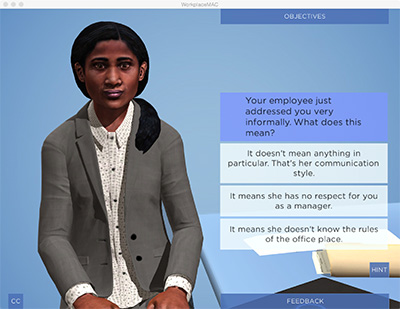 Research shows that differences in social and work habits among the four generations present in today's organizations ― amplified by rapid technological transformation, globalization and cultural diversity ― stress workplace dynamics, affecting success factors such as customer relations, workplace productivity, and employee recruitment and retention.
But "different" isn't necessarily "bad"; properly cultivated multi-generational, cross-cultural workplaces contain the seeds of progress and success. The time to act is now; not resolving today's workplace stresses will have serious negative organizational consequences in the very near future (see our white papers Overcoming Cross-Generational Problems in the Workplace and To Attract and Retain Millennial Talent, Develop Your Perspective-Taking Skills).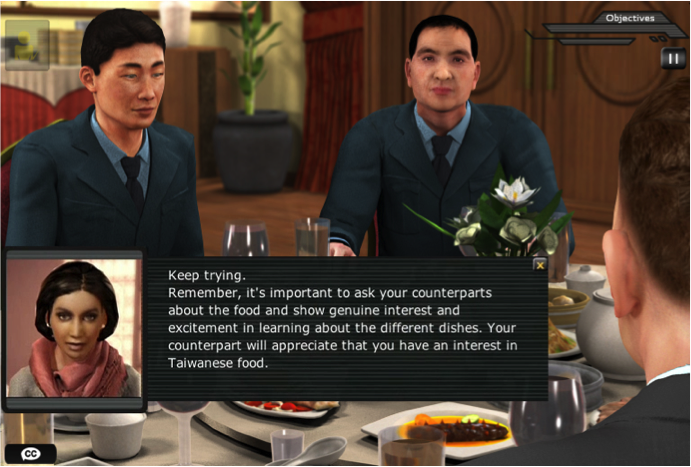 The Alelo® Workplace Coach is a training breakthrough grounded in proven pedagogy and social-science research that uses immersive, interactive Virtual Role-Play simulations of life-like situations to teach how to communicate and collaborate effectively across generations, cultures, mindsets and organizational levels. It is designed to benefit everyone – from executives to white- and blue-collar workers. Its rich and engaging learning experiences combine the low cost per student of self-paced solutions with the realism and personalization of live instruction.
Possible Target Applications
Customer relations, sales.
Leadership, teamwork.
Negotiation.
Fostering innovation and  creativity.
Employment interviews.
Handling discrimination and harassment.
Alelo VRP® is grounded in proven pedagogy and social-science research.
Learners understand differing mindsets by getting first-hand exposure to other perspectives.
Learners speak and choose screen-based options to interact with artificially intelligent characters that coach, challenge, encourage, and engage.
Learners get meaningful life-like feedback that instantly demonstrates the consequences of their behaviors.
Simulations include tasks and situations similar to what learners are likely to encounter in the real world.
Life-like practice without the risk of failure ensures that learners retain and sustain their acquired skills, and can confidently apply them.
The system automatically personalizes instruction based on each learner's evolving competency profile.
Real-time performance metrics provide learners and their supervisors with continuous progress assessments.
Technical details
Custom-built courses to meet each organization's requirements and budget.
Available as either standalone courses or part of blended-instruction.
Runs on desktops, laptops, mobile devices.
Compatible with learning management systems.
Resources
Download the Alelo® Workplace Coach brochure
Download the white paper "Overcoming Cross-Generational Problems in the Workplace"
Download the white paper "To Attract and Retain Millennial Talent, Develop Your Perspective-Taking Skills"
---